Hot tub hire across Wales

Looking for a trustworthy hot tub rental company near me? Hiring a hot tub across Wales is a fantastic way to enjoy a bit of relaxation and luxury at an affordable price, without the commitment, extra cost or responsibility of buying one. Maybe you're planning a child's birthday party… or a staycation thanks to lockdown… or just a bit of luxury for you. Whatever the reason, it's time to treat yourself or your loved ones today with our no-hassle hot tub hire service that covers all of Wales!!

Follow us on Facebook to see our hot tub hire Wales videos, photos, and reviews.
PLEASE PHONE ON 07967 955773 OR EMAIL This email address is being protected from spambots. You need JavaScript enabled to view it. BEST PRICES AND AVAILABLE BOOKING TIMES
Day 1 Delivery Day: This day is about delivery & set up of the tub. Please remember it takes time to fill and heat up to 1000 liters of water. We Deliver between 7am and 6pm
Pickup Day Day: Anytime between 7am and 7pm. We are happy to try to work with you for certain times but it depends to collection route
4 Person Hire £160

6 Person Hire £180

Fun Hire Wales offers Hot tub hire service that aims to please thanks to our large stock of the following. Our Hot tub hire service is second to none with flexible drop-off and pick up times arrangeable.
We

have many 6 person hot tubs for hire in Carmarthenshire, Ceredigion, Pembrokeshire, and the rest of Wales!

We have even more 4 person hot tubs for hire in Carmarthenshire, Ceredigion, Pembrokeshire, and the rest of Wales!
Solid hot tub hire (view on other page)
All major credit cards accepted. Hassle-free booking.

Before you book your hot tub with us, please make sure you have the following information:
Think about your access, to avoid any disappointment we need to have safe easy place to park, a clear route of how the tub will get into your property, the last thing we want is to turn up and not be able to complete install,
Quality Hot Tub Hire with no hassle as we can set it all up for you! We keep our Hot tubs for hire clean and maintained to ensure a no hassle Hot tub hire service.
Hot tub hire bookings / How does it work?




Phone now for West Wales Hot Tub Hire bookings in Ceredigion, Carmarthen, Pembrokeshire, Swansea and Cardiff. If you want Hot Tub Hire in Aberystwyth and Aberaeron and further North then no problem. Give Fun Hire Wales a call today.
---
DROP OFF DAYS AND PRICES
Drop of Thursday and pick up Monday or Monday to Thursday.
4 man hot tub £160.
6 man hot tub £180.
WEEKLY HIRE
Monday to Monday or Thursday to Thursday.
4 man hot tub £200.
Large 6 man hot tub £250.
Water source and power socket needed,

Flat surfaces like grass patio or tarmac

If gravel is the only area you have

Please ask and we can bring mats.
We will supply waterproof x lead and hose pipe if needed.
All chemicals and filters will be supplied and a step-by-step of how to use everything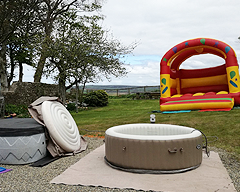 The hot tub is easy to set up – just plug it into a standard 13 Amp plug socket, then relax and enjoy.

Relax and Unwind
Hydromassage is a relaxing and invigorating experience and can also be used as a natural remedy.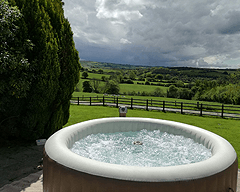 Family Friendly Hot tub hire wales
The hot tub fits 4-6 people, which means lots of fun for families in the warm water and massaging bubbles.

Rain or Shine Hot tub hire wales
During the cold winters or hot summers, the hot tub can be used for leisure come rain or shine.

Highly Portable
The hot tub can be set up on most flat surfaces, perfect for use on patios, outdoor decking, and gardens.


https://www.youtube.com/watch?v=s14oGNIel0E
You can read our frequently asked questions page for more information and book via This email address is being protected from spambots. You need JavaScript enabled to view it., or phone thanks