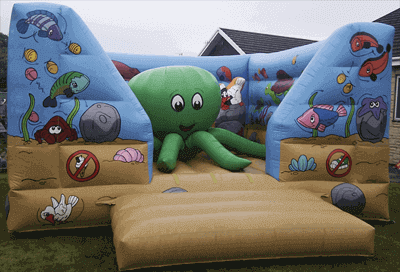 Dimensions: 18ft x 18ft
Location Suitability: Outdoors & indoors (subject to space)
Venue type Suitability: The Octopus Bouncy Castle can be used at any event including fetes, school ac-tivity days, fund-raising events, weddings, summer play schemes, play groups & private parties.
Age Range: Suitable for Children up to 12.
Description: Our Octopus Bouncy Castle for hire features with quirky Octopus & little mermaid figures inside. Hire this multipurpose inflatable castle for a fantastic attraction at any event or party. Great for back gardens etc.
Great add-ons: Diddy cars, soft play, giant games, fun catering (candy floss & popcorn makers) Add link to above items
The more bouncy castles and or add-ons you order the more you save.