Street Food Catering For All Kinds of Events and Shows!
As a street food vendors, we can pop up anywhere in our branded marquee. We are 5-star hygiene rated mobile burgers, crepes, hog roast catering specialists providing unrivalled street food catering throughout the Carmarthen, Ceredigion, Pembrokeshire, Abergavenny, Aberystwyth, Llanelli, Swansea and Cardiff Areas of Wales.
We are established street food traders and as a result, we can cook or arrange any type of food with an array of different setups to suit your event just ask!!
As being a long-serving street food, private event catering outdoor catering company with over 25 years experience cooking and also with my background as a butcher we pride our selves in being one of the the most traditional and experienced spit-roast hog roast companies in Wales, whether it be a joint of pork or beef or lamb we can deliver a succulent mouth-watering piece of meat for your guests and yourselves at any event whether it being private party hire at your home food pitch in a local town or a Welsh food festival you will find us there.

We cover all areas with catering and we travel throughout the country to provide the finest spit-roast hog roast barbecue gourmet food for you to experience at your outdoor parties.
A little insight into what we can actually provide you for you with our catering abilities
We can spit roast pork spit roast lamb beef this would normally take anything between 8 hours and 18 hours on a slow and low temperature so that the mouth-watering meat just melts in your mouth. Additional rubs and marinades can be added to any of the meat that we slow cook either in a tray or on the spit at your request and we are more than happy to provide advice and suggestions for your taste buds.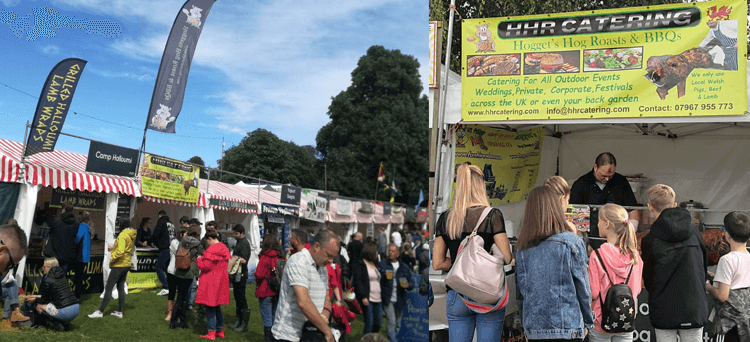 Street Food Vendors serving only quality produce across Wales
Another strong favourite with us and our customers is our traditional Welsh beef burgers from the finest cuts of meat served in fresh bread rolls from a local bakery in Llandeilo and all the local meat being sourced from our local farmers field to fork experience also company with fresh onions and if you're feeling that little bit more adventurous with a local cheese mature or mild Cheddar.

I'm not forgetting an all-time banging is is a gourmet sausages with a variety of strong fillings flavours to blow your taste buds away served in fresh finger rolls brown or white with a selection of flavourings being pork and chorizo our famous dragon award-winning sausage with a selection of herbs and a slight hint of chilli to give you a warm feeling on a cold day, our breakfast sausage with a little hint of everything you can think of in a cooked breakfast lamb garlic and mint if pork isn't your taste many of the flavours depending on the event or your requirements.
Sweet tooth catering options
Always wondered what you can serve after the main meal or even just having a sweet tooth and something to break the day up why not try one of our services being freshly made crepes in front of you with any feeling of your choice with an example of fresh strawberries fresh cream Nutella fresh bananas salted caramel strawberry sauce a Bailey's banoffee sugar and lemon or even as a savoury you could have our famous smoked ham with wild mushrooms and mature cheddar locally or even just ham and cheese as traditional always goes down well. If you are a vegan that likes outdoor catering or vegetarian catering our crepes can still suit you with different recipes to suit all.
We can also offer giant marshmallows with Belgian chocolate if you fancy being a little bit more of Interest you could have sprinkles or as a different take on a chocolate phantom you could use strawberries bananas mini doughnuts various delicacies to dip in a hot chocolate that instantly sets within 20 seconds. Just some of the wonderful things that we can offer on a more streamlined dessert menu we can offer you rather eat pavlova black Forest gateau trifle chocolate eclairs various cheesecakes and much more please ask for more details.

So whatever the size of your party or event we can cater for it from 50 people to 2000 we've got your back covered or should I say stomach, with our 5-star award and hygiene rating everything to be traced to that you have peace of mind for your guests and well-being. If you would like further information on anything that you read or seen on this page or our website please give us a call call or an email and we'll be happy to talk you through different options of Catering or bespoke menus for your event thanks.
And remember we will travel anywhere to cater for your event!!
Private Event catering

We are passionate about great food and love the up and coming awareness of street food and we offer bespoke street food style catering for weddings, corporate days/promotional launches parties, and events,
Our Street food service is available for hire via our sister company called Hoggets Hog Roasts of Carmarthen.