Crepe Catering Service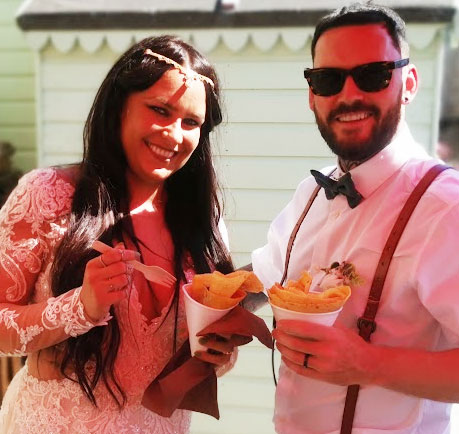 Fun Hire Wales offers a quality Crepe catering service for weddings, corporate promotional days, events, festivals, streets and more across Aberystwyth, Cardigan, Carmarthen, Lampeter, Llanelli, Burry Port, Swansea, Bridgend, Cardiff, and Bristol / Somerset areas through our sister company called 'The Crepe King'.
Crepes are always a great favourite for young and old can be messy but great tasting with any filling weather being sweet or savory you choose professionally made in front of you by our fully trained creperie. Crepes are brilliant items to have for your wedding or party dessert as it brings ambiance atmosphere with the wow factor of it all being made in front of you without the ready meals in a box, these are some of the favourite feelings that you can have with crepes from our sister company the www.crepeKing.com sweet crepes fresh strawberries fresh bananas Nutella salted caramel strawberry sauce sugar and lemon.
Savoury crepes for your event or party
Savoury crepes are a small selection of what we can do for you honey roasted ham with mature cheddar cheese wild mushrooms smoked bacon with our wide range of local cheeses and meats and much more please ask for any bespoke orders or requirements.
Not just Crepe Catering available
Brilliant for quick turnover food at any event and brilliant for any condition of weather we are self-contained and may only need electric to plug in if it is there on location if not we can provide their own power with a generator hire, with the selective wide-range menu running from Welsh traditional burgers lamb and mint burgers cheeseburgers fresh onions, hog roast hire gourmet sausages whether it would be a pay as you go or charity event please give us an email or call and see what we can do for you and with a 5-star excellence you can guarantee that everything will be in order for your event and guests.
No 1 Crepe catering service in Wales
Crepe caterers for any occasion based in Carmarthenshire

Served with a large range of fillings/ Ring for details.
Served in front of you by our skilled staff to give your party the wow factor.
The finest ingredients, high-quality Crepe machines and lovely staff to ensure your guests are delighted.

From Christmas work parties to anniversaries the service provided is tailored to your requirements.
A few crepe topping suggestions:
Sugar and Lemon

Maple Syrup

Cinamon and Apple

Black Forest Cherries with Dark Chocolate and Cream

Strawberry and Salted Caramel

Banana with Blueberries and Cream

Banana and Nutella

Blackberry and Apple Pie