Indoor Inflatable Fun Days in West Wales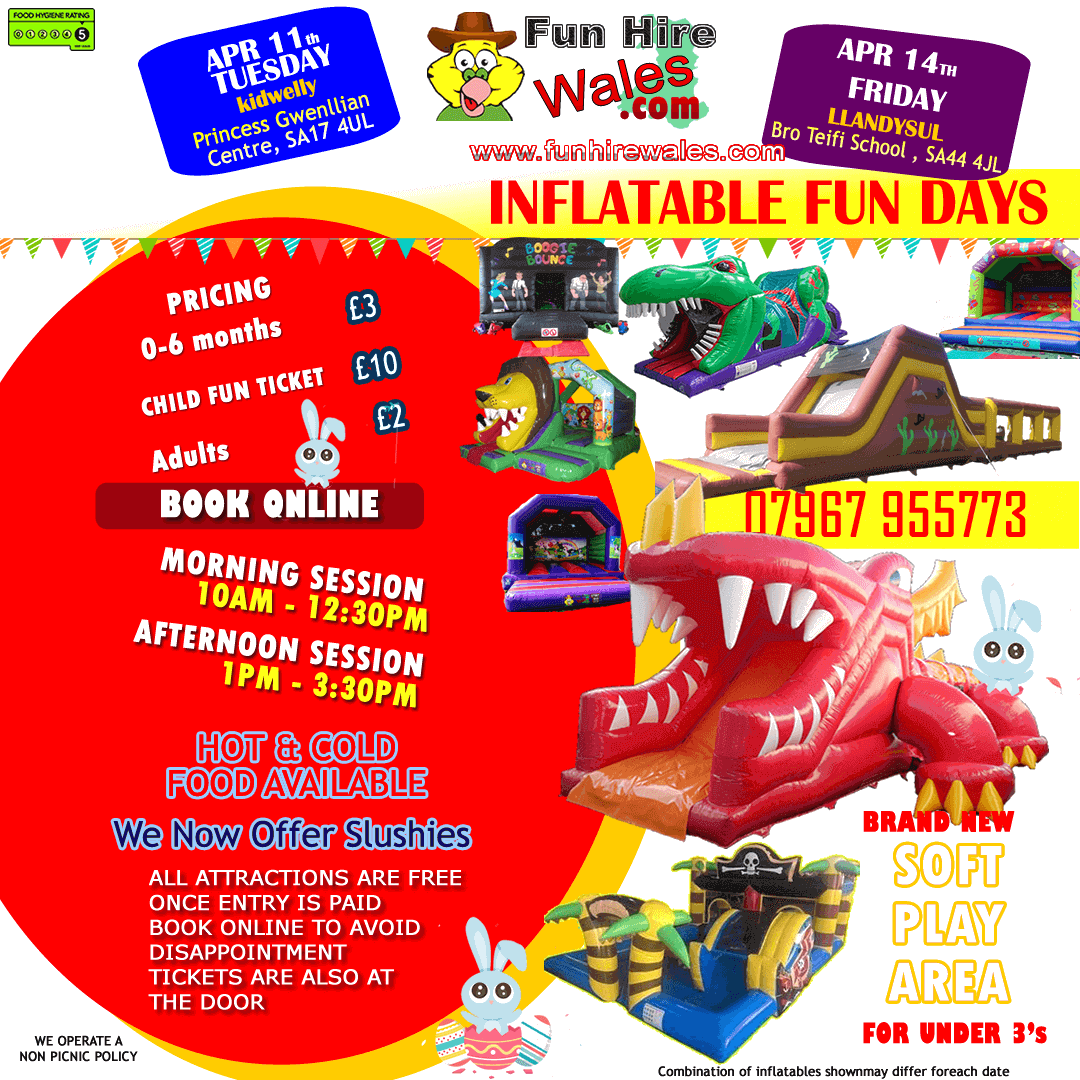 Find yourself looking for fun things or places to take the children If it is a rainy day in Carmarthenshire then fear not as Fun Hire Wales offers indoor Inflatable fun days out for children across Carmarthenshire and Ceredigion.
Booking Instructions:
Select the correct Location & date of the day you wish to attend. Morning or afternoon.
When booking please select the number of adults and age group attending.
Fill out the rest of the form and complete payment.(If payment is not made when booking online then your booking will be canceled as you are not reserving but simply buying tickets)
Always check your spam folder.
Pease remember there are limited spaces available we operate a first come first serve policy thank you
Terms & Conditions of our Inflatable Fun Days can be seen here.
First location ON THE 11 April The Priincess GWENLLIAN Centre Kidwelly SA17 4UL. Get Directions
Session times 10 AM to 12:30 PM and then the afternoon session 1 PM to 3:30 PM.
Second location will be on 14 April in YSGOL BRO TEIFI.
Session times 10 AM to 12:30 PM and then the afternoon session 1 PM to 3:30 PM Get Directions

---
Fun days out for the kids in Carmarthenshire sorted
We are always looking for suitable indoor venues to hold our fantastic inflatable fun days across Carmarthenshire and Ceredigion where we bring a large selection of inflatable items and rodeo equipment for a great day out for children and families in suitable warm sheltered venues so that the Welsh weather cannot spoil the children's entertainment.
These Indoor Fun Days out for Children are usually run during half term and Summer Holidays and now recently Halloween.
As well as our Main Facebook page Fun Hire Wales we also have a sister page for these Fun Days here.
We always have a soft play zone complete with ball pits, diddy cars, space hoppers, soft play and a small bouncy castle for younger children. There are always things to eat and drink for both adults and children at sensible prices.
"Creating something for children to do whatever the weather in Carmarthenshire."

---
Stay tuned to our facebook page for next dates and venues,
If you are looking for fun days out for children in Carmarthenshire, West Wales you can confirm you are coming if you wish by visiting our facebook page.
We are always looking for suitable venues to hold these Fun Days in Wales so if you would like to suggest one then please let us know thank you.
Can you accommodate an indoor inflatable fun day for children in Carmarthenshire or Ceredigion?
We have the capabilities to deliver our events/Fun Days in Wales at any venue, and the ability to adapt our fun hire packages to suit your specific requirements, budget and objectives. With an ever growing number of inflatables and rides we will certainly have something to suit all ages, so whether it is an event for 20 people or 1000 let our team inspire you today.
---
Terms and Conditions
No refunds will be issued
No tickets are sent by post, you will receive a confirmation email which must be brought with you (please check spam)
Please bring the confirmation email to show on the door
Each ticket is for one child only
We reserve the right to remove anyone displaying any anti-social behaviour
Verbal or physical abuse will NOT be tolerated towards any member of staff or guests
Parents/guardians must take responsibility for children in their care at all times.
All participants to remove shoes before going on activities
All participants should have everyday socks on when playing on inflatables
All of the Inflatables are subject to change
NO somersaults, back or front flips on inflatables
NO climbing up slides, NO rough play or bouncing off walls on inflatables
All participants must listen to supervisors on activities
All participants play entirely at their own risk
Management reserve the right to alter any printed times and prices without prior notification. The Management's decisions are always final
Parents, guardians and carers should note that whilst every possible effort has been made to ensure children's optimum safety, neither Funhirewales nor the parent company, Cymru castles, can be held responsible for accidents that occur as a result of playing on the equipment.
Parking - Free parking is available however you park at your own risk. We cannot take any responsibility for damage or theft from vehicles
Only food/drink purchased on site are to be consumed.
Drinks in sealed containers are acceptable only.
All participants must abide by arena rules, as displayed at entry.
---
As advertised on Facebook, Discover Carmarthenshire and www.wherecanwego.com