Bungee Run Hire Wales
Inflatable Bouncy Bungee Run Hire Across Carmarthenshire, Ceredigion, Pembrokeshire, Swansea, and Cardiff areas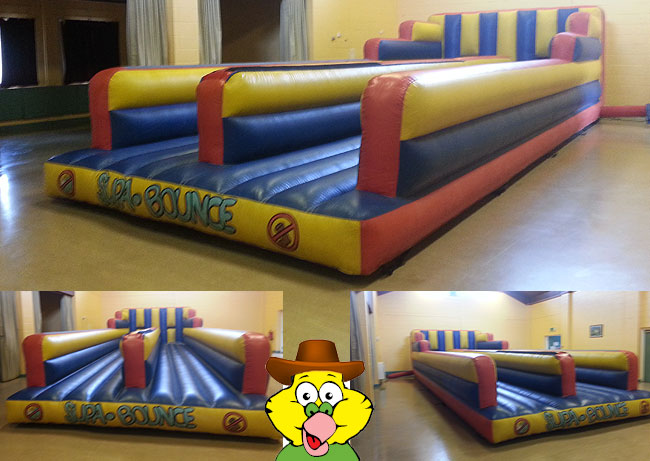 Perfect to make an impression at a corporate event party or show!
Inflatable Bouncy Bungee Run Hire in Ceredigion, Carmarthenshire Pembrokeshire, Llanelli, Swansea, Cardiff. Bungee run hire offers a competitive physical challenge for two people at a time. Each contestant has their own lane, who can run the furthest before being pulled back by the bungee is the winner.

Our inflatable bungee run is an impressive 35ft long and has a real wow factor when seen.
We have 2 inflatable Bungee Run available to hire
The two-lane bungee run is a huge favorite for all event's, the object of the game is to run up the lane and get as far as you can leaving your marker on the Velcro strip running between the two lanes, once you have got as far as you could manage, then the bungee cords snatch you back to the beginning in spectacular style, who managed to get their marker the furthest is the winner.
This is a popular item for hire with Freshers week in universities, colleges and school fun days across Wales. here
Our Bungee Run Hire is also available in our nightclub entertainment to hire section here.
This unit will be operated by one of our fully trained staff to ensure everything goes ok, can be used both indoors and outdoors. Great for party's, corporate entertainment, team building,
PLEASE CLICK BELOW FOR OUR ONLINE BOOKING SYSTEM, AVAILABLE DATES & PRICES
Length 35ft, width 11ft, height 7ft
https://www.youtube.com/watch?v=H8D22qn2a1U
---
This always has everyone in stitches! Two competitors are each tied to bungees which in turn are tied to a tree or other fixed object. It's simple – the competitor who runs the farthest wins. It sounds silly, and it is, but it is one heck of a lot of fun!
You could hire this item along with sumo suits! We don't just provide bouncy castle hire in Carmarthenshire, Ceredigion, Pembrokeshire, Swansea, and Cardiff.
You can read our frequently asked questions page for more information and book using This email address is being protected from spambots. You need JavaScript enabled to view it., or phone thanks