Solid Hot Tub Hire Wales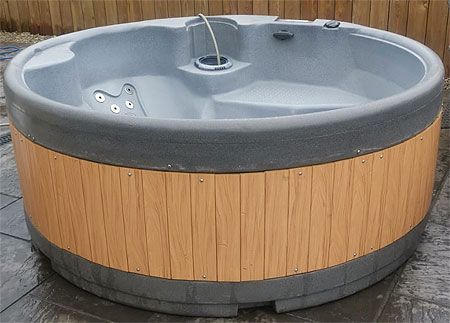 If you have tried the fantastic inflatable hot tubs we offer and want to level up to Solid Hot Tub Hire Wales then read on. With molded seating and powerful, focused water jets you will not want to get out!
ARE YOU LOOKING FOR A SOLID HOT TUB HIRE IN WALES?
Whether you're looking to hire a solid hot tub or a quality inflatable hot tub, you have come to the right place. We are Hot Tubs Rock. Our aim at Fun Hire Wales is to help you have the best hot tub hire experience possible.
We have different types of spa hire: inflatable or solid.
Each type of hot tub has its own features and advantages. You can choose according to what suits your mood and budget, The inflatable

Whether for relaxation, therapy or just good fun, the OrbisSpa circular spa is simply outstanding. Its contours provide smooth, full depth seating and a generous foot well for the most natural resting position. Superb specification giving the ultimate massage experience.
An entry step offers easy access and doubles as a child seat.
Features of Orbis Hot Tub Hire
Like all of our hot tubs, the Orbis is available to hire all over West Wales, including Cardiganshire, Pembrokeshire, and our home, Carmarthen in Carmarthenshire. When you want to hire solid hot tubs in Llanelli, Swansea, Bridgend, or any nearby area, don't forget Fun Hire Wales!
This hot tub can take between eight hours and 20 hours to get to a warm temperature, depending on the weather. When it's warm, this may be between just two to five hours.
The Orbis boasts a large footwell to encourage a comfortable resting position, and this is enhanced with full-depth and smooth seats.
The entry step can be reconfigured for use as a child's seat.
The main seat has a supersized five-inch rotating jet, bolstered with an additional 12 massage jets that are positioned to create the most comfortable spa bath experience.
By using energy-efficient electronics such as a hybrid pump, heat is accessed on-demand while expenses and power consumption is minimised.
Contains a low-energy 1.5hp pump, and a 2kw heater to provide dedicated heating on demand.
Uses silent air control to alter the air-stream in the hydro jets.
Features a total of 13 luxurious hydrojets, including nine ozone and acupuncture jets, one five-inch rotating jet, and three three-inch rotating jets.
The cover insulates against both noise and heat.
Delivery and setup
Upon delivery the hot tub will be filled with water and chemicals will be added. We leave you additional chemicals and easy-to-use instructions to maintain water quality throughout your hire period.
No tight twists and turns as they are rolled into place
So no tight 90 degree bends along a narrow alleyway for example - Just imagine it being rolled in
Inflatable spas just need a flat level area big enough for the 200cm diameter spa.
Open For Business 2021!
Following the new government restrictions, we are still able to provide hot tub hire service across Wales for same household guests or families but not, for any group activity or public gathering and can no longer go through the property to set up. We would need clear side or rear access for a large van. As always chemicals and full printed instructions are with all hires and I will be available 24/7 for any advice needed.
We just need your postcode and dates you would like to book to give you a quote.