Multi-colored Unisex Mini Bouncy Castle for hire
Fun Hire Wales is proud to offer this colourful unisex Mini Bouncy Castle/activity bouncy castle hire for children up to the age of 8 years old. The activity bouncy castle comes with a couple of biff bashes and pop-ups this will keep the little ones entertained.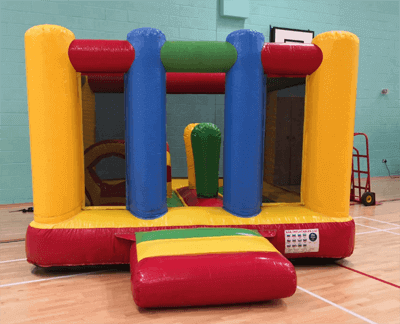 Here is a multi-colored midi bouncy castle, ideal from tots to toddlers with visibility all around and safety netting, there is abundant of fun things to do to keep them amused and entertained with a 'Bish Bosch' shapes.
Dimensions: Length: 12.46ft / 3.8m (required 18.5ft / 4.3m) x Width: 9.48ft / 3m (required 12.5ft / 3.5m) x Height: 8.2ft / 2.5m (required 8.8ft / 3m)
Please note that the sizes are of the actual castle so please allow adequate room around it for safety for the user.
Location Suitability: Outdoors & indoors (subject to space)
Please ask if unsure of the number of users permitted to use this inflatable unit at any one time.
Venue type Suitability: The Multi Coloured Mini Bouncy Castle can be used at any event including fetes, school activity days, fund-raising events, weddings, summer play schemes, playgroups, and private parties.
Age Range: Great for all ages up to 5
With this unisex Mini Bouncy Castle being small and very low in height it will fit into most small village halls and family centres and provide hours of fun with its attractive colours which will get your little one's senses overwhelmed.
This unit can be hired on its own or as part of a soft play package for birthday parties weddings social groups mother and toddler mornings and many other events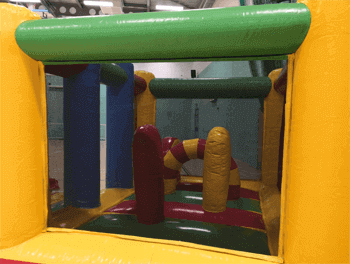 Great fun with good visibility due to the netted sides.
This unisex activity bouncy castle is great for toddlers thanks to the already mentioned shaped and bashers found inside the castle. We have many items in our toddler hire page that we are happy to package with this castle such as themed soft playsets, ball pits, Diddy Cars and more.
Unisex Toddler-friendly bouncy castle hire
Suitable for indoor on hard surfaces
Suitable for outdoors on grass
All major credit cards are accepted. Hassle-free booking.
Why should you hire from us?
12 years of experience in the inflatable play industry across Wales.
We can guarantee the quality of all our equipment as they are regularly tested and our stock rotation ensures there a new castles arriving annually.
With over 100 items we have one of the most extensive ranges of units available to hire in Wales.
£10 Million Public Liability Insurance (it is important that you check the level of cover your chosen company may have as many will only have minimal protection)
£10 Million employer's liability cover.
All electrical items are PAT electrical safety tested (this is a legal requirement under HSE PUWER legislation)
All Inflatables are safety certified to BSEN14960/2013 which is a legal requirement under HSE PUWER Legislation, many of our items carry the PIPA/RPII testing scheme certification.
We can provide 'item specific' method statements and risk assessments for all items we own and operate.
We operate 7 days a week with a dedicated full-time team to help with any questions you may have.
Trained and knowledgeable staff and are well presented
We're full-time hirers with full-time staff members, not weekend-only hirers.
All bouncy castle hire is available with hire packages and money-saving add-ons. Please call 07967 955773 for details

You can read our frequently asked questions page for more information and book using This email address is being protected from spambots. You need JavaScript enabled to view it., or phone thanks
The more bouncy castles and or add-ons you order the more you save.