Fun party catering hire
Based in Carmarthenshire Fun Hire Wales, Fun hire Wales always try to look at every angle of entertaining a party whether it is children, teenagers or adults here below is a massive selection of our Fun party catering hire options and useful tips that you can hire from us for your event in your area whether it being Carmarthen Swansea Cardiff Aberystwyth Bridgend Ammanford Narberth, Lampeter.
Candy Floss Machine Hire
Candy floss can be hired or we can do it for you at your event costs vary for example you could make money from doing it yourself as a DIY option of fun catering alongside popcorn which complements very well. If it was a children's party we can put it on sticks or we can have it bad for you ready for simplicity for the kids to take home as a goody bag. And also with the popcorn, the same can be done.
These two items are also great corporate item hires or at a charity event to raise money please give us an email or a call and we can suit the price for you and recommend the best way of doing it.
Candy Floss hire
Wih both Candy floss hire and popcorn hire you'll also receive cups bags and sticks along with the popcorn kernels and special candy floss mix. There str various flavours to be hard of candy floss Mix and also you can add flavoring to your popcorn whether it being salted sugared sweet or savory you can do it all.
Popcorn Maker Hire for Parties
Whether it's at a night at the cinema or a day out at the beach, there's one unique smell that really gets the tastebuds tingling and mouths watering: freshly made popcorn!

The popcorn maker always looks impressive when children see it upon entering their party venue.

The popcorn machine has an internal spotlight so you can see it popping in front of you and also a base warmer to keep the freshly-made popcorn warm
With all of the higher items they are Pat tested and fully insured for there is no worry of anything going wrong and all the kit is well maintained to the highest of standards and with a 5-star you can be assured that everything is clean and ready to use.

Chocolate Fun hire
Also, another great favorite of ours is a giant marshmallow with Belgian chocolate on it with sprinkles great for a child's party or event to give away as a prize or thank you these can also be used as a ready to go chocolate fudge les mess.
Mikshaker machine hire
Thick milkshakes we use the shmoo of thick milkshakes alongside our own flavourings these all conform come in their own lidded cups with funky straws you can have flavouring from Strawberry chocolate banana vanilla served if wished with squirty cream and sprinkles to make your kids party or event unforgettable to wash down all the delicious candy floss popcorn or giant chocolate marshmallows.
Pick n' mix for your parties
Pick n' mix is always a great favourite with kids and adults at any party or corporate event or just good get together with various sweets to choose from for everyone's taste you can pick what you want from us to bring all sweets will have their own lidded tray from are serving station and authentic paper bags to pop your sweets into.
If you are interested in any of the above Fun party catering hire options then please contact us today.
All Fun party catering hire is available with hire packages and money-saving add-ons. Please call 07967 955773 for details
You can read our Your can read our frequently asked questions page for more information and book using This email address is being protected from spambots. You need JavaScript enabled to view it., Facebook message or phone thanks
---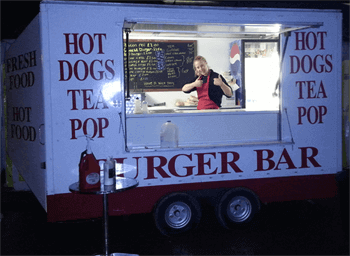 Burger Van Hire
Mobile catering hire at its best.

Make an impression! You can hire a burger can to serve crepes,Jaket potato's Burgers and sorft drinks...
Burger vans are an ideal, affordable hire option for corporate events, providing hot lunches on worksites, helping to fund-raise for school fairs and charity activities, and offering popular, fast food at festivals and charity days across Wales.
Why not hire a burger van for weddings and other parties for a fun and easy catering idea.