Giant game hire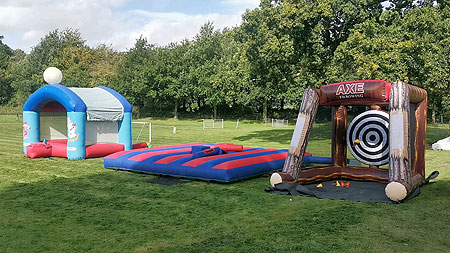 Giant Garden Games & Lawn Games For Hire across Wales from Fun Hire Wales such as giant darts, hand buzzer, and giant connect 4 for and Jenga. Do you want Giant Game to hire? We got 'em!
Fun Hire Wales has a growing selection of 'fun for all ages' giant garden games available to hire across Ceredigion, Pembrokeshire, Carmarthenshire, Bury Port, Llanelli, Swansea, and Bridgend areas.
We are happy to include the items listed for reduced cost and sometimes even free (depending on the size of your order and your location) with larger bookings or large bouncy castles. Simply ask when you ring and we will do our best to make you happy.
Inflatable game hire wales
We have everything for your party get-togethers teambuilding events school fêtes University freshers weeks and corporate events. With our wide range of vintage and modern inflatable and electronic games. Whether it would be a giant connect for test your strength on our high striker test your aim with our giant starboard all kick and stick which is massive for any football tournaments and charity days. The sports theme continues with test your power on our electronic boxing machines and if you want to really at the game we have for available for your larger events. Then when it comes down to a one-on-one challenge we have gladiator duel we have sumo suits we have pit stop challenge to test your nerve and accuracy.
Have you ever thought about axe throwing why not choose our inflatable axe throwing game it is safe for everyone and no one can get their head cut off being very impressive and over 10 foot, rolling with that theme we also have the large school football goal going from that then you can go inside as the day goes on and enjoy a challenging pluck a duck race where you have a electromagnets and you must either beat the clock or each other by retrieving the ducks from their wholes, if that's not enough why not have a go the giant buzzer hand will test your nerve and skill with its large metre standing electro hand with sound effects and countdown music. Side stalls are also a popular choice in any fate wedding theme corporate day school college and university get-togethers, first we have our very popular duck hunt where the aim of the game is to knock the ducks off-the-shelf with ease not needing any electric are brilliant for any venue or space alongside that we also have fish in a bowl where you can either use it as a prize or lucky dip game brilliant for your charity days fundraising events.