Sumo Suit hire & Gladiator Duel Hire in Carmarthen and surrounding areas

These are great to hire for childrens parties etc as it realy makes people laugh! We have 3 types of combative, yet safe games to play suitable for both Children and Adults.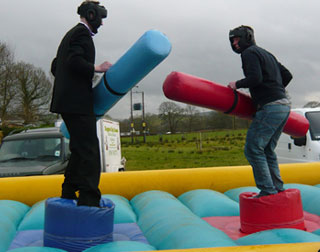 Gladiator Duel Hire
The Gladiators is a one on one combat game, each opponent wears protective head gear and stands on opposite podiums armed with a pugil stick, and the idea is to try and oust your opponent off whilst defending yourself against their attacks.
Our Bungee Run Hire is also available in our nightclub entertainment hire section here.
Great fun for all ages- Good for team building events,

Length 17ft, width 21ft, height 4ft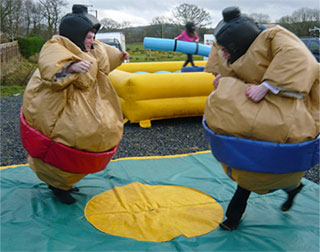 Sumo Wrestling Suit Hire
These super Sumo Suits are hilarious, they are available for both adults and children and they are extremely bulky and clumsy and will have you splitting your sides with laughter !
They come with protective headgear and neck braces styled accordingly, and a large padded mat.

Please call for prices on Adult Sumo Suits per day
Please call for prices on Childrens Sumo Suits per day

or hire both sets together with one mat for £££ (please call) per day
Sumo Suit hire is also fantastic for corporate Fun days read more.