Sumo & Gladiator Hire in Carmarthen and surrounding areas

These are great to hire for childrens parties etc as it realy makes people laugh! We have 3 types of combative, yet safe games to play suitable for both Children and Adults.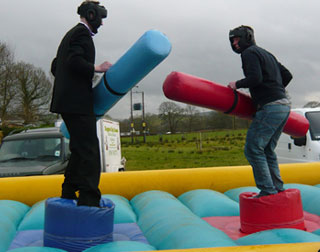 Gladiator Duel Hire
The Gladiators is a one on one combat game, each opponent wears protective head gear and stands on opposite podiums armed with a pugil stick, and the idea is to try and oust your opponent off whilst defending yourself against their attacks.
Great fun for all ages- Good for team building events,


Length 17ft, width 21ft, height 4ft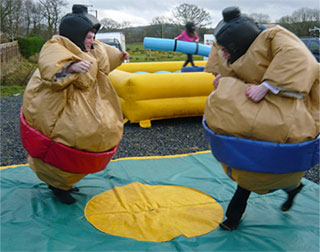 Sumo Wrestling Suit Hire
These super Sumo Suits are hilarious, they are available for both adults and children and they are extremely bulky and clumsy and will have you splitting your sides with laughter !
They come with protective head gear and neck braces styled accordingly, and a large padded mat.

Please call for prices on Adult Sumo Suits per day
Please call for prices on Childrens Sumo Suits per day

or hire both sets together with one mat for £££ (please call) per day
Inflatable Bouncy Bungee Run Hire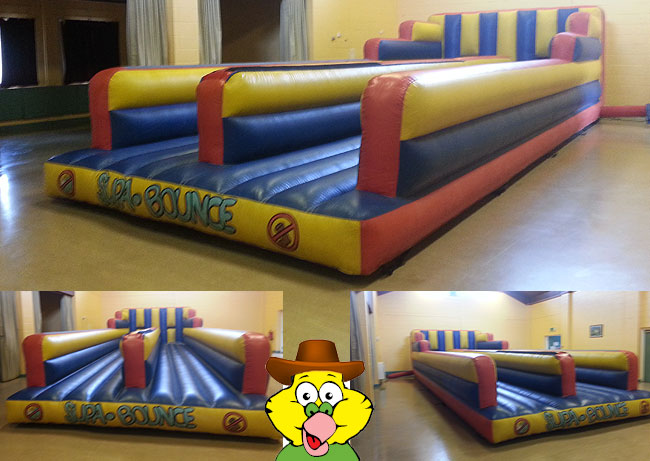 Perfect to make an impression at a corporate event party or show!
Inflatable Bouncy Bungee Run Hire in Cardiganshire, Carmarthenshire Pembrokeshire, South Wales and North Wales. Bungee run hire offers a competitive physical challenge for two people at a time. Each contestant has their own lane, who can run the furthest before being pulled back by the bungee is the winner.
Our inflatable bungee run is an impressive 35ft long and has a real wow factor when seen.
We have 2 inflatable Bungee Run available to hire
The two lane bungee run is a huge favourite for all event's, the object of the game is to run up the lane and get as far as you can leaving your marker on the Velcro strip running between the two lanes, once you have got as far as you could manage, then the bungee cords snatch you back to the beginning in spectacular style, who managed to get their marker the furthest is the winner.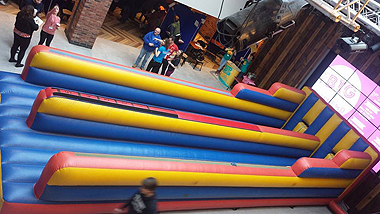 This unit will be operated by one of our fully trained staff to ensure everything goes ok, can be used both indoors and out doors. Great for party's, corporate entertainment, team building,
Length 35ft, width 11ft, height 7ft
---
Bungee Run Hire South Glamorgan: Just a quick thanks for the fun we had at our corporate day with the use of the Bungee run, Photo booth and Sumo suits!
Karl Becks, Cardiff.


Bungee Run Hire West Glamorgan: Our office Event Day hired the Bungee Run as well as the Rodeo Bull and a fun time was had by all that came. Thanks
Jane Peacock, Swansea.

Bungee Run Hire Carmarthenshire: Our Charity day was made more fun by having htis inflatable on hire. It really brought out the competitive spirit with the children!
Sian Eliss, Carmarthen.

Bungee Run Hire South Glamorgan: We were amazed at what interest this Inflatable generated at our awaness day. Big thank you!
David Harris, Cardiff.