It's not just bouncy castle hire that we're good at though. Our range of products have been assembled to bring the fun to any event, regardless of the occasion.

We believe ourselves to be a highly professional fun event hire company who will provide an honest, no nonsense service, devoting our time, energy and ideas to your event. We take great pride in our work and will always go the extra mile as we strive to achieve perfection. We also have experience with Fundraising days and events across Wales so if you are interested in that then give us a call.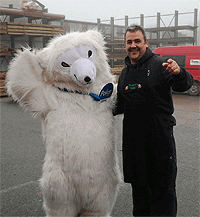 Both inflatables and simulators can also be used as a marketing tool and have excellent promotional opportunities. Why not take a look at our ranges for your next corporate client event!
Planning a corporate event?
Get in touch today and Fun Hire Wales will guarantee the fun.
We cater to all, indoor and outdoor activities – we've got it covered.
For a no-obligation discussion on how our corporate events in West Wales, Aberystwyth, Llanelli, Swansea and Cardiff can help improve your staff members morale and performance, simply call Budgie on 07967 955773.